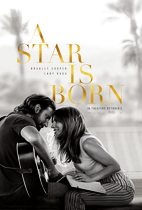 Certificate: 15 Running Time: 136 mins.
Seasoned musician Jackson Maine (Bradley Cooper) discovers -- and falls in love with -- struggling artist Ally (Lady Gaga). She has just about given up on her dream to make it big as a singer until Jackson coaxes her into the spotlight. But even as Ally's career takes off, the personal side of their relationship is breaking down, as Jackson fights an ongoing battle with his own internal demons.
16:00
PERFORMANCE DETAILS
Fri 19th October
Venue:Screen 2
Certificate:15
Start Time:16:00
Running Time:136 mins.
2D / 3D:3D
Subtitled:N
Wheelchair Access:Y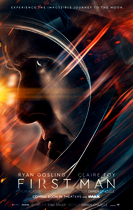 Certificate: 12A Running Time: 141 mins.
The riveting story of NASA's mission to land a man on the moon, focusing on Neil Armstrong and the years 1961-1969. A visceral, first-person account, based on the book by James R. Hansen, the movie explores the sacrifices and the cost—on Armstrong and on the nation—of one of the most dangerous missions in history.
First Man contains a sequence of flashing lights which might affect customers who are susceptible to photosensitive epilepsy.
15:45
PERFORMANCE DETAILS
Fri 19th October
Venue:Screen 1
Certificate:12A
Start Time:15:45
Running Time:141 mins.
2D / 3D:3D
Subtitled:N
Wheelchair Access:Y