12 Cavalleria Rusticana and Pagliacci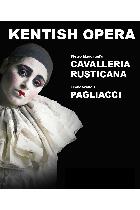 Release Date
Wed 25th April
Live Show
Run Time
150
Showtimes for Stag Theatre :
Synopsis
Cavalleria Rusticana (by Mascagni) and Pagliacci (Leoncavallo) are two short Italian operas that are frequently staged together. Kentish Opera is delighted to be presenting them again --- we last performed these dramatic works in 2001.
Cavalleria Rusticana is literally "rustic chivalry" and its one act contains such much-loved gems as the Easter Hymn and the gorgeous Intermezzo.
Pagliacci means "Clowns" and it tells the story of a travelling troupe of actors, performing their tragic play about a sad Clown, to some enthusiastic villagers. But the troupe has its own internal hostilities …
Robyn Sevastos, our Musical Director, will again be conducting the soloists, chorus and orchestra, and Terry John Bates will be directing the drama. These two productions are a must-see for all opera fans, and indeed all music-lovers.
Tickets: Starting at £25.00 - Standard, £10.00 - Concessions.
*Please note a £2.00 administration fee is charged per sale.