17 Tubular Bells Live!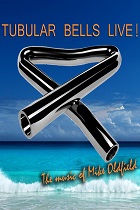 Release Date
Mon 7th May
Live Show
Run Time
148
Showtimes for Stag Theatre :
Synopsis
To celebrate the 45th anniversary of the album that launched Virgin Records, join Phil Toms and his Tubular Band as they faithfully recreate Mike Oldfield's Tubular Bells in its entirety along with hit singles including Moonlight Shadow, Five Miles Out and To France and a selection of instrumental works from Hergest Ridge to Return to Ommadawn. Previous performances sold out to an international audience and were supported by Richard Branson, producer Tom Newman and, via social media, by Mike Oldfield himself. Ring out the bells!
www.tubularbellslive.com
Tickets: £25.00 - Standard, £22.50 - Concessions. *Please note a £2.00 administration fee is charged per sale.