32 Whispering Smith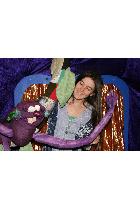 Release Date
Sat 23rd June
Live Show
Run Time
50
Showtimes for Stag Theatre :
Synopsis
A Wishworks' Interactive Puppet Show
Whispering Smith, a very shy creature, gets stuck up a tree and has to find his voice so he can get help. Hand, rod and shadow puppetry, storytelling and a bit of magic make this a very special show for children aged 2-7.
http://www.wishworks.co.uk
Please note we do not have storage facilities for buggies.
Part of the Sevenoaks Summer Festival 2018 - www.sevenoaksfestival.org.uk
Tickets: £5 - Standard.
*Please note a £2.00 administration fee is charged per sale.