34 Goldifox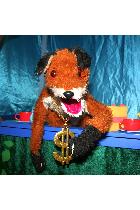 Release Date
Sat 23rd June
Live Show
Run Time
50
Showtimes for Stag Theatre :
Synopsis
A Wishworks' Interactive Puppet Show
Our story-teller is interrupted by Goldifox, a naughty puppet, who wants to be part of the show, the main part - and he's not sure he likes porridge. What will the bears say? Mayhem and hilarity ensue and the audience are invited to audition, dress up and join in.
http://www.wishworks.co.uk
Please note we do not have storage facilities for buggies.
Part of the Sevenoaks Summer Festival 2018 - www.sevenoaksfestival.org.uk
Tickets: £5 - Standard.
*Please note a £2.00 administration fee is charged per sale.