42 International guitar concert in support of Syrian refugees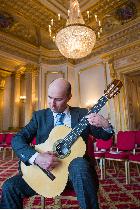 Release Date
Fri 29th June
Live Show
Run Time
90
Showtimes for Stag Theatre :
Synopsis
Ayman Jarjour, classical guitarist
Internationally renowned Syrian classical guitarist, Ayman Jarjour, has performed worldwide, including at the Carnegie Hall in New York. He started guitar in Damascus and studied in Madrid and Juilliard. This concert includes classical works and traditional Syrian music and aims to raise funds and awareness in support of Syrian refugees re-settling in the Sevenoaks area. Promoted by Sevenoaks Welcomes Refugees.
Part of the Sevenoaks Summer Festival 2018 - www.sevenoaksfestival.org.uk
Tickets: £15.00 - Standard, £5.00 - Concessions.
*Please note a £2.00 administration fee is charged per sale.