43 The Soil Never Sleeps – Meet the poet, walk the farm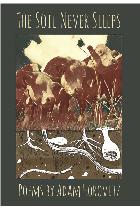 Release Date
Sat 30th June
Live Show
Run Time
180
Showtimes for Stag Theatre :
Synopsis
Adam Horovitz
Adam Horovitz spent a few days of each of the four seasons at Romshed Farm and from that, and alongside visits to three other farms across the UK, he wrote "The Soil Never Sleeps". This event combines a farm walk with Adam to discover what inspired him, tea and cake and a poetry reading of Adam`s poems in a beautiful 16th Century Kent Barn. This is an unique combination of farming, landscape, poetry and a lovely walk. Not to be missed.
www.adamhorovitz.co.uk/blog/about-2
Part of the Sevenoaks Summer Festival 2018 - www.sevenoaksfestival.org.uk
Tickets: £10.00 - Standard.
*Please note a £2.00 administration fee is charged per sale.