51 It's Clazzical! Julian Marc Stringle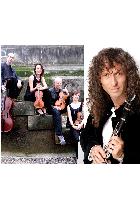 Release Date
Thu 5th July
Live Show
Run Time
120
Showtimes for Stag Theatre :
Synopsis
The music of Gershwin, Bernstein, Dankworth, Piazzolla, Rimsky Korsakov, Jobim, Rodgers & Hart, Mangione, Bechet, Aznavour, Vito & Stringle performed by Julian Marc Stringle in concert with 'The Dream Band' Quintet and Sonia Slany's 'Solid Strings' Quartet. A unique fusion of Latin Jazz Funk and Classical melodies 'Julian Marc Stringle is the best clarinettist to emerge in British Jazz for decades' Sir John Dankworth
www.julianmarcstringle.com
Part of the Sevenoaks Summer Festival 2018 - www.sevenoaksfestival.org.uk
Tickets: £15.00 - Standard.
*Please note a £2.00 administration fee is charged per sale.