52 Wilde Roses – Music, with songs, dance & tales of Olde England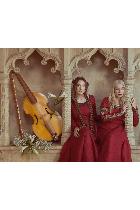 Release Date
Fri 6th July
Live Show
Run Time
120
Showtimes for Stag Theatre :
Synopsis
Anna Tam & Emily Alice Ovenden Wilde Roses sing in historical costume in - Celtic, Middle English, Latin as well as Modern English; and play early instruments that are both visually and aurally stunning - recorders, nyckelharpa, viola da gamba, hurdy gurdy, percussion etc. There's no need to have any previous experience or interest in early music to have a great time at this concert.
www.wilderoses.com
Part of the Sevenoaks Summer Festival 2018 - www.sevenoaksfestival.org.uk
Tickets: £12.00 - Standard, £5.00 - Concessions.
*Please note a £2.00 administration fee is charged per sale.