Donate to us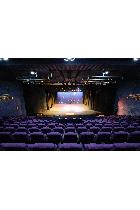 Release Date
Mon 1st June
As Live
Run Time
60
Showtimes for Stag Theatre :
Synopsis

We are a not for profit charity. We rely heavily on hiring out The Stag building, the spend in our bars and kiosks and kind donations and sponsorship from businesses and those in the community.
The outbreak of Covid-19 means The Stag is temporarily closed but our team is still hard at work remotely talking to customers and helping to book shows for when we reopen. We are regularly updating the website with rescheduled shows so don't forget to book your tickets. You can also give Gift Aid payments online while booking.
We are enormously grateful for the local support we receive and now more than ever, we need that support.
We want to make sure we can continue bringing you high quality shows long into the future. Can you help?
DONATE NOW
Just like booking a show, please click on the blue time button above and give what you can. You will also help us raise 25% more by ticking the Gift Aid box.
Your donation now really will make a big difference. It will mean we can continue providing you with quality entertainment, community events and a much loved arts venue in Sevenoaks.