dS:uK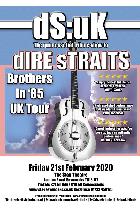 Release Date
Fri 21st February
Live Show
Run Time
140
Showtimes for Stag Theatre :
Synopsis
Venue: Stag Theatre
During the 80's and 90's, Dire Straits were one of the biggest music brands and concert touring bands in the world. Still today, Mark Knopfler remains one of the most beloved guitarists in Rock Music history.
Their biggest album, Brothers in Arms, released in 1985 still sits in the top 10 of the best-selling albums in chart history, and remains one of the most beloved albums of all time.
"dS:uK…in tribute to Dire Straits" began touring in 2016 and have quickly become noticed as *the* quintessential tribute band among Dire Straits fans with their incredible attention to musical and sonic detail. To say that "dS:uK" sound like Dire Straits is an understatement.
The 2020 "Brothers in 85" tour pays tribute to the worldwide Brothers in Arms tour, with the band bringing fans the ultimate 1985 Dire Straits experience and all of those songs that you want to hear.
Here comes Johnny singing oldies goldies…. it'll truly give you a shiver in the dark!
Don't miss it!