First Man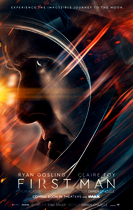 Release Date
Fri 12th October
12A
Run Time
141
Showtimes for Stag Theatre :
Synopsis
The riveting story of NASA's mission to land a man on the moon, focusing on Neil Armstrong and the years 1961-1969. A visceral, first-person account, based on the book by James R. Hansen, the movie explores the sacrifices and the cost—on Armstrong and on the nation—of one of the most dangerous missions in history.
First Man contains a sequence of flashing lights which might affect customers who are susceptible to photosensitive epilepsy.