Letz Zep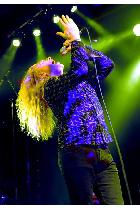 Release Date
Fri 16th November
As Live
Run Time
150
Showtimes for Stag Theatre :
Synopsis
Letz Zep are the Official Number One tribute to Led Zeppelin and Baby They Ain't Foolin'.

Ticketmaster awarded them the status of both 'The Most Popular' and 'The Most Highly Rated' tribute to Led Zeppelin in the UK today. Even Robert Plant has seen the band perform, commenting: 'I walked in, I saw me'. Letz Zep are certainly the most successful and in demand tribute act to Led Zeppelin on the planet, having been featured on BBC1, BBC2 and ITV1. They have also appeared on TV and radio in Spain, France, Brazil, Venezuela, Australia, New Zealand .. to name but a few.

The band had a full-page feature in Rolling Stone Magazine, Classic Rock magazine' in addition to receiving a glowing full page review in Kerrang! magazine, (Twice) and have been interviewed for Le Figaro in France. Letz Zep also featured as the full page front cover picture for Liberation, one of the most important newspapers in France.

The band have also featured on Planet Rock Radio, Darren Redick naming them 'The Very Best of tribute bands', and also on BBC Radio 2, where Chris Evans said of the band ''A proper rock show, 10 outta 10''.