Magic – A Kind of Queen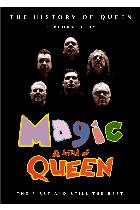 Release Date
Sat 4th April
Live Show
Run Time
130
Showtimes for Stag Theatre :
Synopsis
Venue: Stag Theatre
From "Seven Seas of Rhye" to "Made in Heaven" Magic will take you on a musical journey through the History of Queen.
Magic are no strangers to the big stage. Over the years they have played Gorky Park in Moscow, Hong Kong, venues in the Middle East and Central America. Closer to home they have played twice at the London Palladium and many other theatres and concert Halls all over Britain.
Now with a new line up including a dynamic new lead vocalist, Taylor Payne, join Magic for their new show.