Moment in Time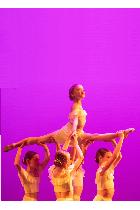 Release Date
Sat 28th March
Live Show
Run Time
120
Synopsis
Venue: Stag Theatre
Emmerson School of Dance take to the stage with an 85th anniversary creative showcase exhibiting the talents of over 200 dancers.
An exciting and diverse programme of ballet, tap and jazz, set to an array of eclectic music styles and beautiful costumes, all performed by students of the school. Come and join the cast in a celebration of dance.
£1 will be deducted from each ticket sold by The Stag Sevenoaks for the Stag Development Fund.