National Theatre Connections: Flesh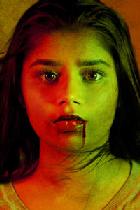 Release Date
Wed 13th March
Live Show
Run Time
60
Synopsis
The Stag Youth Theatre will be performing Flesh by Rob Drummond as part of National Theatre Connections – a nationwide celebration of new plays for young people.
Flesh is one of ten brand new plays written especially for Connections by a selection of the best playwriting talent in the UK.
A group of teenagers wake up in a forest with no clue how they got there. They find themselves separated into two different teams but have no idea what game they are expected to play. With no food, no water and seemingly no chance of escape, it's only a matter of time before things start to get drastic. But whose side are people on and how far will they go to survive?
This is a play about human nature, the tribes we create and cannibalism.
National Theatre Connections is one of the UK's largest celebrations of youth theatre. Plays are commissioned for and about young people, from some of the best contemporary playwrights, and performed by schools and youth theatres all over the UK and Ireland.
Please note this play contains some strong language, may not be suitable for under 12's.