Parent & Baby: Apollo 11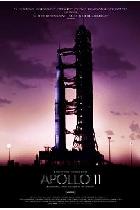 Release Date
Tue 27th August
U
Run Time
93
Showtimes for Stag Theatre :
Synopsis
Parent & Baby: A performance with lower volume, brighter lighting and other people in the same situation - so no need to remove babies that cry!

Apollo 11 is a documentary about the first Moon landing, in July 1969.
Starring: Buzz Aldrin, Joan Ann Archer, Janet Armstrong, Neil Armstrong, Jack Benny, Johnny Carson.