Rhiannon – The Ultimate Tribute to Fleetwood Mac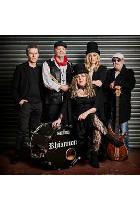 Release Date
Sat 18th August
Live Show
Run Time
150
Showtimes for Stag Theatre :
Synopsis
Rhiannon, the ultimate tribute to Fleetwood Mac brings the voice, the look and the musicianship into this authentic and truly polished, professional show.
They capture the energy and perform stunning versions of the most popular Peter Green, Christine Movie, Lindsey Buckingham and Stevie Nicks hits!
Rhiannon is brought to you by an exceptional group of musicians coming from a variety of different background. The members of Rhiannon share a mutual passion and love for the creation of music. The band works together day and night preparing for performances in order to make sure their recordings and live performances are in full harmony.