The Dimming of the Day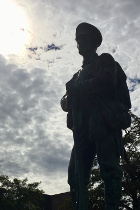 Release Date
Thu 1st November
Live Show
Run Time
135
Synopsis
Written Voice Theatre presents a new play specially written for Sevenoaks. This staged radio play is performed live and inspired by Rosina Caplen, a local resident, who fought tirelessly to find the body of her husband during the First World War.
The story also follows Rosina and her friends Eliza and Katherine as they try to help the hundreds of Belgian refugees who fled their home country and arrived in Sevenoaks during the war. When news arrives from Rosina's friend Charles, she sets off a journey which will change her life.
The play sees the characters forced to question their own motives and views of war and shines a light on a little known part of Sevenoaks' history.
There will be a fascinating pre-show talk at 6.30pm before both performances with local historians Ian Walker on Nov 1 and Matthew Ball on Nov 2.
There will then be a short break from 7.30pm-7.45pm followed by the performance of The Dimming of the Day.
The ticket price includes both the talk and performance.
Part of the Sevenoaks Remembers Arts Festival.