The Scummy Mummies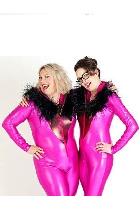 Release Date
Thu 2nd April
As Live
Run Time
110
Showtimes for Stag Theatre :
Synopsis
Venue: Stag Theatre
Join comedians Ellie Gibson and Helen Thorn as they celebrate the scummier side of parenting, from drinking wine at teatime to hiding from the PTA.
Expect stand-up, sketches, songs and some very scummy stories. Guaranteed to make parents laugh and non-parents happy about their life choices. Based on the hit Scummy Mummies podcast and bestselling book.