The Story of Guitar Heroes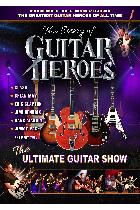 Release Date
Thu 13th February
Live Show
Run Time
120
Showtimes for Stag Theatre :
Synopsis
Venue: Stag Theatre
The Story of Guitar Heroes is an awe-inspiring, dynamic show which transports you through time: from the 1950's with artistes such as Chuck Berry and Hank Marvin from The Shadows, including gifted legends such as Jimi Hendrix, Eric Clapton and Jimmy Page, through to modern day players such as the great Brian May and the electrifying Steve Vai, to name but a few!
The show uses over 30 guitars to recreate and accurately reproduce the sound and ambiance of each guitar hero, whilst also featuring video footage of historical moments, with state-of-the-art lighting and delivered with a light hearted vibe!
Now in its 5th year, The Story of Guitar Heroes has become increasingly popular not only with many guitar players and musicians, but with people and families of all ages.
Don't miss out on this spectacular show. You won't be disappointed!