TRANSFOXED – SYT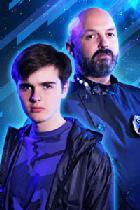 Release Date
Wed 24th July
Live Show
Run Time
60
Synopsis
Venue: The Stag Plaza
"The year is 2085, Earth is nearly dead, humanity virtually extinct, and animal life no more, sort of."
TRANSFOXED is a brand new science fiction comedy performed by the Stag Youth Theatre. Whether you identify as a girl, a boy, a fox, or a worm, all must come together to save the planet!
Ant 'Silly Billy' Payne guest stars as President of the Galaxy, written and directed by Simon Cossons, with original music by Ollie Chugg.